YPSILANTI: Parkridge Center Joe Dulin Community Day boosts pride
Ypsilanti Courier
news
Thursday, August 29, 2013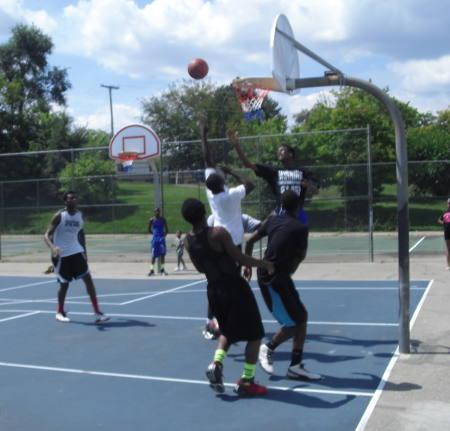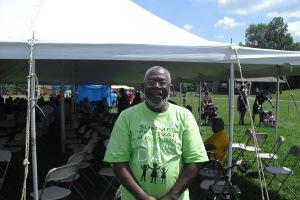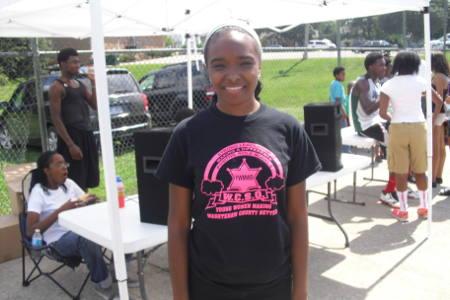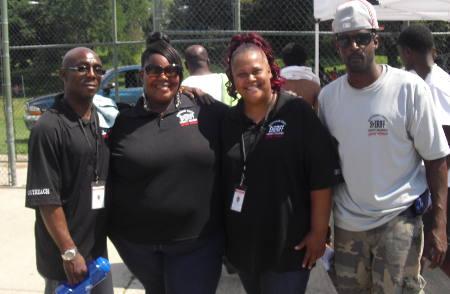 By Leslie McGraw
[email protected]
Twitter: @LesGo4It
Southside Ypsilanti's Parkridge Park was home to the 2nd Parkridge Summer Festival and Joe Dulin Community Day on Saturday, Aug. 24, 2013. Over a thousand people attended this free, all-day event which featured local entrepreneurs and artists, a car show, kids' face painting, games, food, entertainment and information from Huron Valley Ambulance EMT technicians and live local entertainment and a youth basketball tournament hosted by the Washtenaw County Sheriff's Office.
This day was a merger between two community events previously held around the same date. The Annual Washtenaw County Joe Dulin Community Day began in hopes of educating vulnerable populations in Washtenaw County about support services and resources available. This Community Day began 6 years ago in honor of the retired educator most recently noted for his activism with the Ann Arbor Concerned Citizens for Justice (AACCJ), that started after three African American teens were criminally charged after an in an incident erupting after an altercation between several coaches at a high school football game in October, 2012. "We've expanded our voice Washtenaw County…" says Dulin, "The schools serve as a pathway to prison once children get involved with charges in the school, and it follows them."
Dulin is also well-known for his 30 years as Principal at Roberto Clemente High School and spearheading the African American Parent Involvement Day to highlight African American parents that are involved in their child's school but might go unnoticed against the larger presence of the majority and to encourage and coach parents that may not be as involved or visible in the schools. This grass roots observance is now a national holiday, known as NAAPID, and has grown to include cultural education and awareness at the classroom, school, and district levels.
The second of the two efforts that united on Saturday is the Annual Parkridge Community Center Summerfest. This day began in 2011 after community members were looking for a way to strengthen the immediate community around Parkridge. "We listened to the community. After the first one, people were looking forward to the Summerfest every year," said Summerfest committee member, Ricky Jefferson. The Summerfest was fashioned after an event that would happen in the community many years ago entitled the Black Arts Festival. The Black Arts Festival, which was held annually from the late 1960's to early 1980's was originally organized by a group of teenagers called Youth on the Move in response to a damaged culture resulting from local and national disappointments including the assassination of Rev. King, riots, and segregation. "The community needed a hope shot in the arm," said Jefferson.
A Community to Be Proud Of
Many older residents and community members who used to live in the area remember the annual event from the past with fond memories.
Ann Arbor business owner, Carl Fulton, recalls a childhood memory of one of the vendors that participated every year. "I can't remember what his name was, but he walked everywhere with tight, tight clothes, black socks, and streets shoes," he paused to laugh, "The man was a genius. At his booth, you could ask him any question and he would give you the answer and the history."
This year, generations of people from Washtenaw County came out to support the event. "I started my clothing line as a combination of me and my brother's names," said entrepreneur, DeWayne Lavar Warren, who was one of the many vendors on site "the name is really what it is." The clothing line, Lavar Pierre, comes from the middle name of both he and his mentally challenged brother. "One day, I'd like to use the money from the line to create some type of program for mentally challenged kids," said Warren.
Staff and volunteers from the Washtenaw County Sheriff's Outreach Department occupied the Parkridge Basketball Court, along with dozens of youth that came out for the Ballin', an eight-week basketball championship series hosted in five different communities throughout the county and managed by the Derek Jackson, the Director of Community Engagement for the Washtenaw County Sheriff's Office. "Each week, a player wins the best baller of their community and every week there's a winner," said Natalia Harris, Community Outreach Coordinator. Saturday, the top six players from each community competed for the championship title.
Young ladies, with fresh hairstyles strolled through the festival grounds, courtesy of Finesse Hair Salon. "We have fashion and hair shows and other programs for girls ages 7 to 17" said Natalia Harris, who also works with the group entitled, Young Women Making Washtenaw County Better (YWMWCB).
Social worker and Summerfest Committee Member, Anthony Williamson did not live in the area during time of the old festival. However, working closely with Parkridge Community itself for over 15 years, he saw a disempowered community. When he heard the stories of the Black Arts Festival and how much pride and positive memories people still held, he looked it up the history in the Ypsilanti archives. Committee members met to figure out how to rekindle the old feeling while still placing the emphasis on new efforts and initatives. "The old festival didn't have all the resources that we have now," said Williamson.
"The reason I got involved with the Summerfest was the community itself," said Williamson, "it [this festival] is proof that it is a good community, can be a better community."