ANN ARBOR: NAACP hosts Freedom Fund Dinner
Ypsilanti Courier
news
Monday, November 11, 2013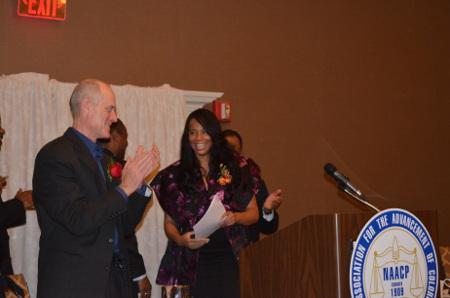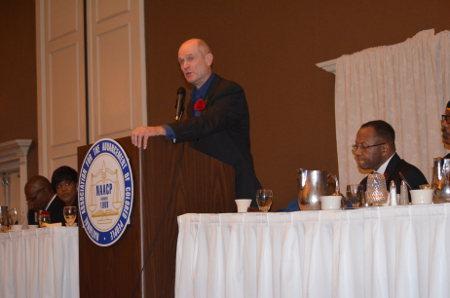 By Leslie McGraw
[email protected]
Twitter: @LesGo4It
The Ann Arbor Branch of the NAACP held its annual Freedom Fund Dinner Sunday, Nov. 4 at the Ann Arbor Sheraton Hotel. About 300 people gathered to hear about African American and civil rights history and achievements in its "journey to freedom."
The evening's freedom journey included listening to the emancipation proclamation, honoring the longest-serving member of the local NAACP, Mrs. Joseph Mhoon, and learning about the evolution, financial success, and destruction of Black Wall Street.
The majority of the time, however, was spent on the 125 AAPS high-school youth in attendance being honored for their scholastic achievements over the last year. "Every branch has a Freedom Fund Dinner, said NAACP Officer, Susan Baskett, "at our dinner, we focus on students."
The panel of speakers that addressed the youth, their families, and their extended community included Mayor John Hieftje, AAPS Superintendent Dr. Jeanice Kerr Swift, and a keynote address from the President of the Ann Arbor/Ypsilanti Black Chamber of Commerce, Anistia Thomas. Each honored student was recognized in a formal, graduation-style ceremony with a certificate and a copy of the DVD Freedom's Song: 100 Years of African American Struggle and Triumph.
"I came out to support Pioneer High students and other students in the district, said Pioneer Principal, Lisa Anglin. "It's important for them to see us honoring and supporting them outside of the school building."
Many of the scholars who have all maintained academic excellence for at least one year, have plans after high school. Anthony Jacobs, 10th-grader at Pioneer High School, maintains a 3.2 GPA. When asked how he keeps his grades up, he said, "I stay after school each day with my math teacher and get my homework done and ask for help when I need it."
Community High School senior, Siri Zama, was honored for the third time.
"I want to go to UCLA," says Zama, "I'd like to be a doctor, a lawyer, or a psychologist." Eight to 10 tables over, her mother Shauntel Garland and history teacher, Cindy Haidu-Banks sat in smiles and support.
Saidah Rahman, a 10th-grader at Skyline, says that she maintains her 3.7 GPA by studying hard and focusing in class and would like to join the Peace Corps after college. Odia Sylla, also a tenth grader at Skyline, said that she would like to be a surgeon.
"Lives are really precious. And to be able to fix someone's life or take away their pain would be really cool."
"The goals for this year's freedom fund dinner were to stress the importance of education, the importance of celebrating excellence in education, and community, said Lauretta Flowers, an educator and one of the event organizers.
Although there were many reasons people said they came out to support the event, the one reason everyone we spoke to mentioned was "the youth."
Chapter President William Hampton told the audience on Sunday that the question he is asked the most is "what does the NAACP in 2013?" He shared a list of achievements from protecting deeds of African American homeowners to an annual college trip to maintaining one of the oldest Juneteenth celebrations in the state.
Hampton said the meaning behind We Shall Not Be Moved, a Negro spiritual that was sung by many during the civil rights demonstrations at lunch counters where people would sit and wait to be seated, while encountering racist comments, threats, and even having food dumped on their heads.
"I believe we need to live in the present, prepare for the future, but – at the same time – remember the past" said Hampton.
Hampton said that he experiences situations colored by race regularly both personally and professionally. He shared an incident where a white waitress did not believe him when he told her that he doesn't dance. He said her reply was "Of course you do; I've got black friends; you have dancing in your blood." Hampton said that he doesn't feel the woman had bad intentions at all.
"She was trying to make a connection with me," he said "but until we reach the point where all color is superficial, we still have work to do.
The NAACP, or National Association for the Advancement of Colored People, is the oldest and largest civil rights organization in the United States. This has also left it open to criticism about its relevancy and flexibility in today's times. Even, the theme for the Freedom Fund Dinner, We Shall Not be Moved, lends itself to interpretation based on generation and context.
"Young people will never be able to emotionally connect…we were not alive," said Thomas during her keynote address, "There has to be a more effective community approach." Thomas used statistics and current events to describe the state of the black economics today, highlighting the recent allegations of racial profiling by Barneys and NYPD when young black shoppers bought items store personnel did not believe they could afford legally. "Racial profiling should not be the biggest issues," said Thomas, "We need financial literacy; income does not equal wealth…a belt you bought because you saw a rapper wear it online or a suede Céline bag is not an asset, it's a liability."
Thomas encouraged youth to generate revenue, create wealth and opportunities for themselves while they were still young enough to make mistakes and recover, citing several young millionaires under the age of 25. She also tasked them with using their social networking pages to educate and encourage. "It's not about going home, homework, then posting selfies and Instagramming all night."
The NAACP left everyone with history, community engagement, achievements, and gratitude for the sacrifices that black people have made historically so that youth can have some of the opportunities they have access to today. Thomas's keynote address left everyone with action items to strengthen black economics and communities. "I am holding each of you accountable."