YPSILANTI: Music Fest showcases talent from new groups
Ypsilanti Courier
news
Saturday, December 07, 2013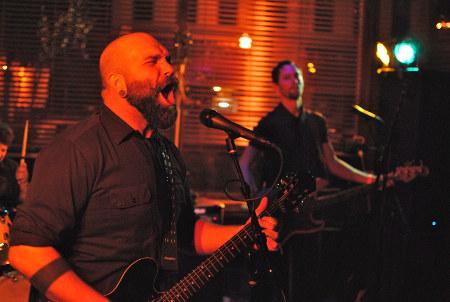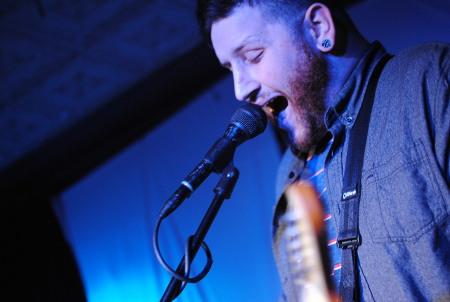 By Leslie McGraw
[email protected]
Twitter: @LesGo4It
Ypsilanti music lovers were given a glimpse of what's coming down the pipeline at YpsiFest 9, featured 36 new and familiar bands from the greater Ypsilanti area on Thursday, Friday, and Saturday, Nov. 14 thru Nov. 16 at Woodruff's Bar in Depot Town.
Bands covered a variety of rock and roll related genres including Punk, Heavy Metal, and Oi!. One of the popular bands that performed, 1876, plays mostly Thrash Metal, which is a fast-paced version of heavy metal made popular by groups like Metallica and Anthrax over 30 years ago.
On the YpsiFest 9 Facebook Page, musicians and music enthusiasts began to connect a month ahead. Alex Arnot, of Pinckney, came to see what Ypsilanti had to offer for the first time on Thursday. "I didn't know what to expect," said Arnot, "I was pleasantly surprised." Arnot came back to Ypsifest on Saturday to see more bands perform.
There were two stages to set up in order to move quickly from one band to the next. On Saturday, the 4-piece band, Ironclad opened the night with some Punk Rock. While the crowd stood around cheering them on, the next band, Axe Ripper, a 5-piece band based in Detroit, sold their wares on the pool table.
Several of the groups featured at YpsiFest, including Lawless Carver, The Beggars, and Blake Jake and the Carnies have signed with Groovebox Studios of Detroit (GBS Detroit).
Lawless Carver, who performed at this year's YpsiFest, played for the first time three years ago on the same stage. "We just signed a record deal with GBS Detroit," said Ryan Hampton, the drummer for Lawless Carver, "Our music is all instrumental, progressive, composition-based…things you could transcribe for an orchestra."
Hampton is a member of three bands, two of which are full-time. Bloodline Calligraphy, which held regional acclaim in the early 2000s, doesn't play as often anymore. The other band Hampton performed with at YpsiFest, Decade of the Flies, is a four-piece band with a drummer, bass player, and two guitars. "Our music is a little heavier," said Hampton. "In Decade of the Flies, we all sing." It's all original music. This year marked their second performance for the group.
Hampton, like many of the musicians featured at Ypsifest juggles his schedule to accommodate practice time. Hampton practices with Lawless Carver on Monday, Decade of the Flies on Tuesday, works at Woodruff's on Wednesday and Thursday night, and works Friday and Saturday on the weekends that he doesn't have a gig coming up.
Ypsilanti music lovers can rest assured that live music does not stop after YpsiFest. She Keeps Bees and an Evening in Red are just a couple of the local bands playing at Woodruff's during the month of November.