YPSILANTI: Top brew teams compete at Rat Fest 2014 (updated with contest winners)
Ypsilanti Courier
news
Wednesday, January 29, 2014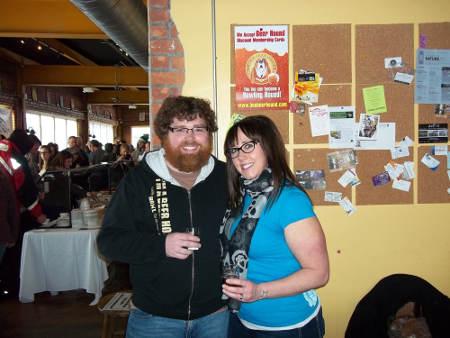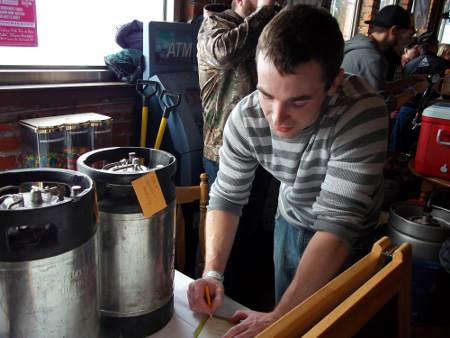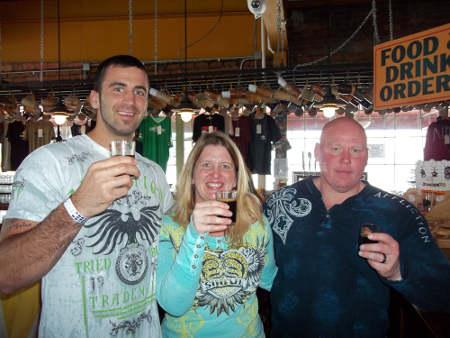 By Leslie McGraw
[email protected]
Twitter: @LesGo4It
Nearly 300 beer enthusiasts came out sample some of the best brews at the sixth annual Rat Fest Saturday afternoon.
Beer tasters got to enjoy 32 of the best beers created by eight homebrew teams in Michigan at Arbor Brewing Company Microbrewery, formerly known as the Corner Brewery.
What started out as a challenge to create 24 beers in 24 hours has grown to become Rat Fest, a competition that features groups with original home-brew recipes.
"This is an in-house production" employee Brian McShane said. "We have a 10-gallon system called the Rat Pad where groups come to test out their home brews.
"Local brew clubs are a great way to get started because they teach people the craft."
One of the winners in Saturday's competition, Detroit Draft Divas, had four teams of two women that participated with original home brews such as the Tripel Hot Kiss made with pineapples, oranges, habaneros, and tripel.
Locally, there are hundreds of people who belong to home brewing groups. One of the largest, the Ann Arbor Brewers Guild, has more than 100 members and has two sub-groups that competed on Saturday.
Some of the team members were sharing their brew for the first time.
Dennis Itsell, from the Craft Beer in Michigan team, was new to Rat Fest.
"This is my first time in a competition, first time I made it in a keg instead of bottle,"Itsell said.
Itsell made his Stout brew, North of 12 Bourbon, by adding chocolate and coffee to Michigan Bourbon from Traverse City, and finishing it with white oak chips.
In addition to beer experts and home brewers, Rat Fest attracted a lot of beer drinkers who wanted to learn more about the craft and different types of beers.
Joe Martenka, of Whitmore Lake, student at Eastern Michigan University studying exercise science, attended the event for the first time.
"This is my favorite event so far," Martenka said.
When asked how he decided which beers to vote for he admitted he was still in the learning process.
"I like the flavors you can detect in each beer, I found that I like my beer strong, but 'sippy,'" Martenka said.
Husband and wife, Billy and Tammy Berry, and their 23-year-old son, Jeff Cawood found one beer that they all agreed was a favorite, a Sour Cherry Stout created by The Sons of Liberty of Plymouth.
"It's amazing; I love the taste, the sour taste mixed in", Tammy Berry said.
"It takes time to find your favorite beer," Paul Starr said. He is the owner of Michigan Craft Beer website, www.imabeerhound.com.
Starr and his wife Tammie started out publishing video reviews of beers and it grew into the current website that publishes beer articles daily with a following of almost 20,000 people.
"We started traveling, trying different brews everywhere, but didn't always know where the local breweries were," Tammie Starr said.
Today, the beer scene is growing with new fans and flavors daily.Contest winners Overall Favorite Group of Beers: 1st Place – Sons of Liberty 2nd Place – AABG Overall Best Beer: 1st Place – Oatmeal Raisin Cookie Stout by Sons of Liberty  2nd Place – Hawaiian Red Hibiscus Gose by Sons of Liberty Best Beer Challenge (Sour Beer): 1st Place – Sour Cherry Stout by Sons of Liberty  2nd Place – There was a tie between Citra Ass Down IPA by AABG and Saison Du Rat by Motor City Mashers Best Decorated Group Table: 1st Place – Detroit Draft Divas 2nd Place – AABG Most Unique Beer: 1st place – Hawaiian Red Hibiscus by Sons of Liberty 2nd Place – Tiramisu Obliterator by The Ugly Mug Cafe and Roastery.