YPSILANTI TOWNSHIP: Dozens take leap into cold for charity
ypsilanti couriernews
Thursday, February 20, 2014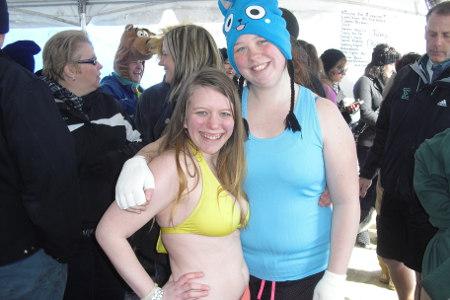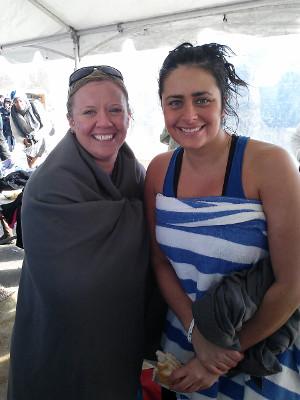 By Leslie McGraw
For Heritage Media
Around 70 people dove into the frigid waters of Ford Lake recently to raise money for some good causes.
A chilly Saturday, Feb. 15 served as the backdrop for the Ford Lake Ford Leap an event which raises money and awareness for several causes in the area: Ele's Place, the Detroit Regional Dollars for Scholars, and Growing Hope.
Temperatures were lower on Saturday than they have been in the six years the leap has been in existence, but organizers were prepared to help jumpers throughout the process with warming blankets, a warming tent, hot water, dressing rooms, food, a live DJ, and a party tent.
"We're ready," said Jennifer Radziszewski, manager at Lakeshore Apartments, "They cut the hole in the ice a couple days ago, Washtenaw County Hazmat workers are here with warm water and a tent to warm up in, we have dressing rooms, the dive team is doing a final sweep."
The Washtenaw County Hazmat team provided warm water heated by a water heater onsite. "It's designed to clean contaminants off of people in scenes like stadiums…hospitals won't be able to treat a person until you have gotten rid of the contamination; you can get rid of most of the contaminant by removing the clothes and spraying them with the water," said Washtenaw County Hazmat team leader, Jeff French. "We are here as a public service and also to fulfill some training requirements."
Jumpers, who took the plunge in groups, paid $50 per person to participate, raising at least $5,000 for each of the three charities. The first jumper to dive in was dressed as Superman, part of the team Freezin For a Reason. The top fundraiser, Joshua Johnson of the Squeal Team, brought in $1,200.
"I want an excuse to jump in freezing cold water," said Jaclyn Young, who came out to support Growing Hope (of Ypsilanti), leaped into cold water for the fourth time on Saturday.
"It's for a good cause, and it's in a social setting so I don't have to feel weird…or weirder about it."
Jennifer Jakubowski, part of the EMU chapter of Sigma Nu Phi, jumped the first time last year to support SOS Crisis Center. She came back a second time, this time wearing a bikini for her dip in the lake.
Others, like Darin Meisner of Ypsilanti, participated for the first time to support causes he believes in.
"It's not so bad," said Chelsea Acho, warming up in the party tent after her jump, "the worst part is the ladder, finding and gripping the ladder to get out of the lake once you jump. The rest is fine."