Ypsilanti's Growing Hope celebrates 11 years (PHOTO GALLERY)
Washtenaw Now
news
Thursday, June 05, 2014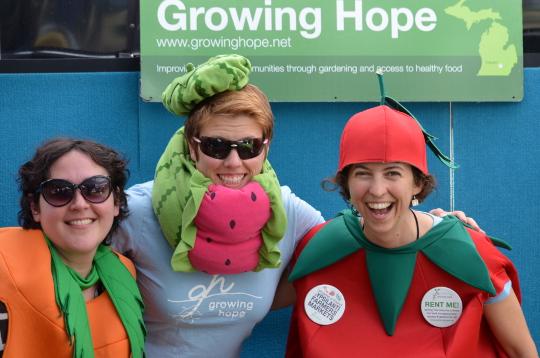 By Leslie McGraw
Special to the Ypsilanti Courier
YPSILANTI — Hundreds of residents came out to tour the 1.4 acre space at 922 Michigan Avenue in celebration of Growing Hope's 11th birthday celebration on Sunday afternoon.
Growing Hope, an urban farming site, increases access to good food and teaches people how to grow healthy foods and garden.
[ Click here for a photo gallery ]
"We wanted to celebrate 11 years, have an open house, and give a thank you to friends, donors, and the community for embracing us." said Growing Hope's Assistant Director Maria Brummel. Brummel, who assumed her new position two months ago helped show people around the demonstration farm throughout the day.
"My background is in administration, but I am learning food stuff; now I know how to distinguish between food plants," she said.
Birthday party-goers were treated to fresh fruit and vegetables from the Growing Hope demonstration farm, tours of the facilities, a special version of Twister using pictures of fruits and vegetables, live music and pizza baked in a stone oven.
"The alchemy of a stone oven changes the taste," said baker Eric Moore. Moore, who is the baker at River Street Bakery, part of the Ypsi Food Coop, started baking in his home town of Jackson Hole, Wyoming.
"We had a wood burning stove; that's where I learned to manage fire," said Moore.
Growing Hope has created a number of community partnerships over the years with area schools, businesses, and organizations, expanding their reach.
"Some of our folks helped install the table lamps for the demonstration farm," said Derek Schmitz , vocation program manager at Rainbow Rehab a facility serving spinal cord and brain injured persons.
"It's a good partnership," he said.
Rebecca Brinker, the Community Services chairwoman of the Ypsilanti Kiwanis Club, came out on the first weekend off she's had in a long time to support Growing Hope. "I like being a part of community things," said Brinker "organizations like this [Growing Hope] help the community become strong."
Each stop in the open house was an educational journey. The welcome path, known as the Pervious Paver Plaza, contains 12,000 pounds of recycled glass which allows rain water to sink into the earth.
"Water goes through dirt to clean again," explained Gartner as she led a group of tourists around the site.
Executive Director Amanda Maria Edmonds said one of their greatest accomplishments as an organization was purchasing the house only four years after the organization was started.
"We raised funds larger than our actual budget because we understood the importance of having a place and what place does for a community," said Edmonds who is running for mayor of Ypsilanti in the August primary.
The house was purchased in 2007. Edmonds and others renovated the home for about five years.
"We spent 2007 through 2012 renovating the house, but have been growing food here since 2008." said Program Coordinator Danielle Gartner.
Staff moved into the Growing Hope house in April 2012.
"We created a place, we have seen the impact it has had; many neighbors have told us 'so glad you've moved in this place'" said Edmonds.
Today, the house provides space for 12 to 15 staff. Every piece of the house, which is heated and cooled using a geothermal system, is utilized –including the living room where Garden Leadership Training classes are held in the off season.
"We are proud to be here, coming together creating places," said Edmonds.