Longtime journalist, volunteer and business leader honored with ATHENA award
Washtenaw Now
news
Friday, June 06, 2014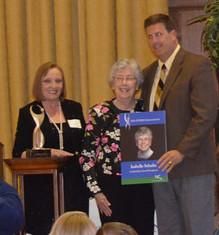 By Leslie McGraw
Special to The Milan News-Leader
Milan's Isabelle Schultz has worn a lot of hats throughout her career, but on June 3 when she accepted the 2014 ATHENA Leadership award she was representing all the "doers" in the community.
A longtime journalist making her way through newsrooms at the Ann Arbor News, Ypsilanti Press and Detroit Free Press eventually serving as the Milan News editor, Schultz was one among three finalists for the esteemed award presented by the Women's Council of Washtenaw. The other two finalists were Carole Baker, CFO of Scalable Informatics; and Lanny White, founder and director of GrowBiz.org.
Schultz began her career as a community volunteer around the same time she began writing for the Milan Leader and other newspapers. She cites this experience in reporting local area news as instrumental in helping her to meet people she may have not known otherwise.
Schultz began her acceptance speech by saying that she thinks of herself more of a "doer" than a leader. "Being a leader in my non-profit world has to be different from being a leader in business, education, politics, or wherever leadership is required," she said
Schultz, who accepted the award on behalf of all the "doers" that have helped along the way, says she continues to be motivated in her community work because she sees things that need to be done.
"Instead of complaining, I wanted to do something about it. I always asked for help and always got it," she said.
Although Schultz shared her acceptance with all the volunteers that have helped along the way, she is the common denominator in a host of high-profile community projects in the Milan area. She cited the Greater Milan Area Community Foundation as her most rewarding volunteer project to date, granting over $226,000 to local non-profits since 2005.
"Every community has good people with good values who are willing to work together for worthwhile causes," said Schultz during her speech "some are eager to help, some need a push and others – who lack experience or confidence –a shove," Schultz said.
The Women's Council of Washtenaw also presented five awards to local leaders that have made an impact in local communities and beyond. Unlike Schultz, these award recipients knew prior to the award ceremony that they had been selected.
Among the recipients selected was the founder and executive director of Growing Hope, Amanda Maria Edmonds. Edmonds, who won the first ever ATHENA Young Emerging Leadership Award, used her acceptance speech to present a call to action.
"Everyone, no matter what circumstances you are born into, has the ability to be a leader," said Edmonds.
Edmonds started her speech by drawing attention to the "privilege" she was born into. "I am white, middle class, and born in the latter part of the 20th century without having to worry about money…I could afford to be a leader in 5th grade or 11th grade; I was lucky to be born into this privilege."
From that self-proclaimed vantage point Edmonds, in her mid-30s, has already demonstrated leadership for over twenty years. While she was a student at the University of Michigan, she took on a side project resulting from her passion for environmental justice at the Perry Learning Center in Ypsilanti.
In 2003, that passion had evolved into Growing Hope, a community and urban farming and gardening organization currently housed on Michigan Avenue in Ypsilanti, employing 12 year-round staff and involving hundreds of volunteers.
In over 15 years of leadership in the Ypsilanti community, Edmonds says that she has received a lot of help from a team of strong leaders.
"We talk a lot about giving back, but giving forward is just as important as giving back. It changes your perspective from serving to involving," said Edmonds.