Relay for Life in Ypsilanti brings together community of survivors (PHOTO GALLERY)
Washtenaw Now
news
Thursday, June 26, 2014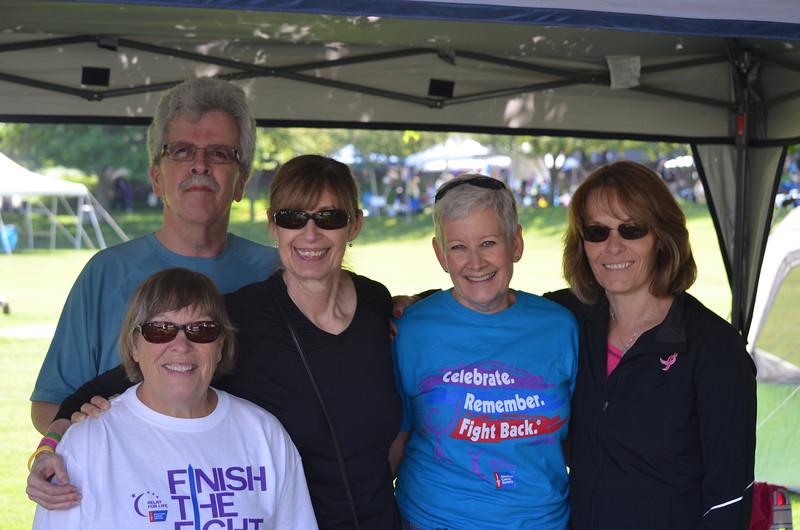 By Leslie McGraw
Special to The Ypsilanti Courier
YPSILANTI — On Sat. June 21, the Ypsilanti Relay of Life combined with the Ann Arbor group to raise money for the American Cancer Society by walking laps at Washtenaw Community College for 24 hours beginning at 10 a.m.
Participants of all ages sold their wares, acted as cheerleaders, and dressed in tutus and superhero costumes throughout the day. Jonathan McGregor, of Ypsilanti, walked in his first Relay for Life three years ago at the age of twelve. This year, he walked laps in between helping to staff his mom's booth "Cupcakes for Cancer." McGregor, who says their family has lost a few people to cancer, met his goal of walking 222 laps around the relay circle last year.
"This year, I'm going for 333," he said.
For some walkers, getting around even one lap was a struggle. Mary Sorenson, of Ann Arbor, walked with her husband Rod and daughter Paula. Sorenson was diagnosed with cancer in 1981 and comes to walk every year. When asked how she has coped with cancer so long, she replied, "positive attitude and a good family."
[ Click here for a photo gallery ]
Laura Mayleben, who has previously chaired the Eastern Michigan University division, is currently a part of the Ypsilanti Committee for Relay for Life. She is also the daughter of a six-year cancer survivor. Her mother, who battled breast cancer during her senior year of high school, participates each year with their family team. In December, Mayleben will graduate from Eastern Michigan University as a teacher.
"When I'm in the classroom, I know that there are students have gone through the same thing so students are affected. I feel because of my experiences I can relate. This is another connection. I know what it feels like to be dealing with that at home and have to come to school each morning."
Brother and sister, Chad Colebank and Cindy Lawson, paused along the relay circle to speak to survivors and their families, "Our mom was diagnosed March 22, 2010 and died March 5, 2012. She did the Relay for Life in 2011," said Lawson.
Colebank and Lawson showed off their T-shirts inked with names after stopping by to get an autograph from Denise Sumerlin, sister of a cancer survivor.
Relay for Life Team Captain, Denise Sumerlin, came with members of Strong Tower Ministries of Ypsilanti. Sumerlin's sister, Sandra Marie Hunt, died 12 years ago at the age of 46 of Leukemia a year after being diagnosed.
She left behind two daughters, 23 and 10. The oldest daughter started a mentoring organization "Sand's Child" in honor of her mother.
Survivors were celebrated and remembered by not only loved ones, but also connections made in the fight for cancer. Spencer and Sheila Rice walked in the three-day Komen for a Cure Breast Cancer Walk in 2006. This is where they met Joan Caldwell, the woman who was known to "never have a pity party."
Caldwell, who had been a 14-year cancer survivor, died three years ago. A group of friends that she had collected during her fight for cancer pulled together a team, Kindred Spirits.
"She was a great inspiration," said Mary Lou Greenfield who had known Caldwell since 2005. The Kindred Spirits team had a booth and also walked in the relay for life.
"She was a survivor" said Spencer Rice.
The University of Michigan Credit Union has a booth at the Relay for Life each year. This year, however, the connection became personal. Chol Yong Kim, Harriet Hughes, and Ashley Laury came out to represent the credit union as Superheroes for Sally, in honor of their co-worker who passed away a couple months ago.
"We just found out that she was going through treatment," said Laury. Sally, who had worked in the accounting department, was an employee of the credit union for fifteen years.
"She underwent surgery and they found more cancer than expected," said Hughes, "she died within 24 hours of the surgery." Her family, who she used to go on a trip "up north" with every summer is going to go this year without her. Her co-workers are continuing the fight against cancer without her.
Pam Wilson, who participated for the first time in the Relay for Life, said she has been affected indirectly by cancer when she helped officiate the funeral of her girlfriend's mother after a battle with cancer.
"It was a difficult time at the end. The physical experience is different for everyone, but the emotional experience is the same," she said.